Navy conducts two blood donation camps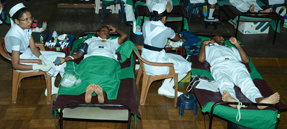 According to concept of the patron of Shraddha TV and Radio Network, Rev Aludeniye Subodhi Thera and under the guidance of the Commander of the Navy Vice Admiral Ravindra Wijegunaratne, two blood donation camps were conducted in the Western and Eastern Naval Commands during the last few days.
12 Apr 2016
Naval personnel nab two local fishermen engaged in illegal fishing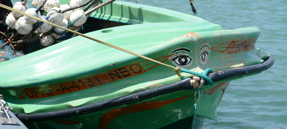 Naval personnel attached to SLNS Buwaneka in Nachchikuda arrested two local fishermen, engaged in illegal fishing using unauthorized nets in the seas off North of Urumanei on 11th April 2016. During the arrest, a Fiber Glass Dinghy and 2 Monofilament nets used for fishing were taken into custody.
12 Apr 2016
SLNS Samudura leaves for Indonesia to take part in "Exercise Komodo -2016"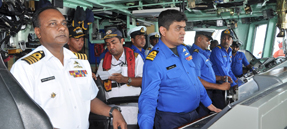 Sri Lanka Navy's Offshore Patrol Vessel, SLNS Samudura left for Indonesia from Port of Colombo on 05th April 2016, to take part in the multilateral naval exercise "Komodo" and "International Fleet Review" (IFR) 2016. Samudura arrived in Port of Teluk Bayur, Padang Indonesia on 10th April and was ceremonially welcomed in accordance with the Indonesian traditions. Crew of Samudura is comprised with 186 officers and sailors.
11 Apr 2016
Naval personnel nab four local fishermen engaged in illegal fishing