Navy foils an attempt of illegal immigration; 90 suspects apprehended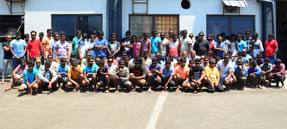 Naval personnel attached to the Fast Attack Craft belonging to the Western Naval Command, during their patrol to curb transnational crime in the territorial waters of the island, apprehended 90 suspects onboard suspicious trawler plying in the Western seas of Sri Lanka today ( 11th Sep).
11 Sep 2018
Scholarships awarded for the children of Naval families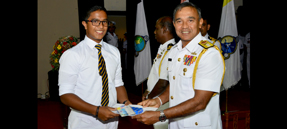 The scholarship awarding ceremony for the children of Naval families who excelled at the G.C.E. (O/L) examination in 2017, was held under the patronage of Chief of Staff Rear Admiral Piyal de Silva at the Admiral Somathilaka Dissanayake auditorium in SLNS Parakrama, yesterday (10th Sep).
11 Sep 2018
Indonesian Naval Ship 'Kri Sultan Hasanuddin' leaves for her next port of call
Navy assists to minimize environmental damage of Muthurajawela oil spill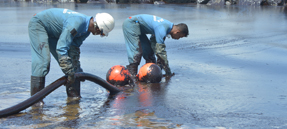 Sri Lanka Navy is pressed into action to minimize the environmental damage caused in Dikowita area due to an oil spill from a pipeline carrying oil to the Muthurajawela Oil Refinery Complex from the shore, yesterday (08th September). The oil removing efforts are being currently carried out by Ceylon Petroleum Corporation (CPC) and Sri Lanka Coast Guard (SLCG) in coordination with the Navy.
09 Sep 2018
SLCG receives two Inshore Patrol Craft built by Sri Lanka Navy