Indian Defence Advisor & Polish Defence Attaché call on the Commander of the Navy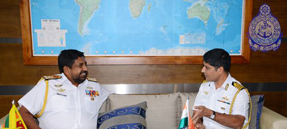 The Defence Advisor of the Indian High Commission in Sri Lanka, Captain Prakash Gopalan and the Defence, Military, Naval and Air Attaché of Poland to Sri Lanka Colonel Slawomir Koltun called on the Commander of the Navy Vice Admiral Ravindra Wijegunaratne to pay their courtesies at the Naval Headquarters in Colombo on 22nd July 2015.
22 Jul 2015
New Chief of Staff commences duties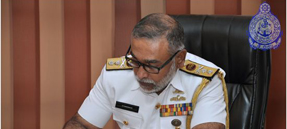 Rear Admiral Sirimevan Ranasinghe, who was appointed as the Chief of Staff of the Sri Lanka Navy by His Excellency the President and Commander-in-Chief of the Armed Forces Maithripala Sirisena, commenced duties on 22nd July 2015 at the Naval Headquarters in Colombo amidst the blessings of Maha Sangha.
22 Jul 2015
One-day workshop on "Vehicle Emission Testing and its Importance"
Naval Academy introduces Unifight; the latest sport fixture to the country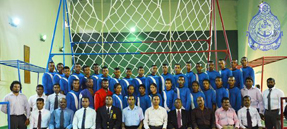 Introducing a new sport discipline in Sri Lanka named 'Unifight' or 'Universal Fight', a tournament was held at the gymnasium of the Naval and Maritime Academy (NMA) Trincomalee on 18th July 2015 under the guidance of the President of the Unifight Federation in Sri Lanka and Commandant of the NMA, Commodore YN Jayarathna.
21 Jul 2015
Commander of the Navy pays homage to Sacred Tooth Relic and calls on Mahanayakes of Malwatte and Asgiriya Chapters to receive blessings
Commander of the Navy awards Letters of Commendation to naval personnel for their contribution to the national efforts in eradication of drug menace
Rear Admiral Sirimevan Ranasinghe assumes duties as the new Chief of Staff of the Sri Lanka Navy