Passing out of Naval Recruits of the 225th Regular Intake of Sri Lanka Navy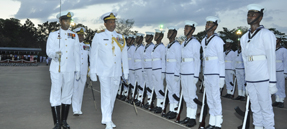 Three hundred and twenty - eight naval recruits belonging to the 225thregular intake of the Sri Lanka Navy passed out at SLNS Shiksha in Poonewa today (02) after successful completion of their basic training. The Commander North Central Naval Area, Rear Admiral Dimuthu Gunawardena attended the ceremony as the Chief Guest and took the salute.
02 Apr 2016
Hundred and One kgs of Narcotic Drugs apprehended in the Southern Seas (The largest haul ever apprehended out at sea)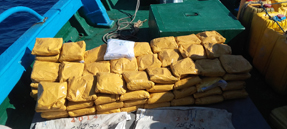 During a joint mission carried out by the Sri Lanka Navy and the Police Narcotics Bureau, a haul of 101 kg of narcotics was apprehended whilst transferring through the Southern costal belt of Sri Lanka. The consignment which was apprehended on 30th March 2016, is said to be the largest ever stock of narcotics apprehended at sea in the recent history.
01 Apr 2016
First ever Staff Talks was held between the US Navy and SL Navy officials on board 'USS Blue Ridge'
Sri Lanka Tamil Teachers' Union praises Sri Lanka Navy