Ruwala Resort, Kalpitiya handed over to Navy to be used as quarantine centre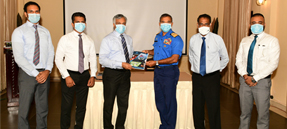 The Ceyline Holdings Pvt Ltd today (08th April 2020) temporarily handed over its Ruwala Resort in Kalpitiya to the Sri Lanka Navy to be used as a quarantine centre. Accordingly, this 31 - room resort in Kalpitiya will be utilized as a quarantine centre by the Navy during the current crisis faced by the nation.
08 Apr 2020
Navy conducted disinfection programmes at Karativu and Department of Pensions, Colombo.
Navy distributes pharmaceutical drugs to doorstep of patients attending clinics in Naval Hospitals