Sri Lanka and Indonesian Navies compete in friendly volleyball match in Welisara

Commander of the Navy Chief Guest at CINEC Logistics Day 2017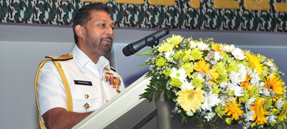 The Commander of the Navy Vice Admiral Travis Sinniah, as the Chief Guest, graced the Logistics Day 2017 of the Colombo International Nautical and Engineering College (CINEC Campus) held at the Auditorium in the Campus premises in Malabe today (19th October 2017). The Commander of the Navy also delivered the key note address at the inaugural session.
19 Oct 2017
'A Green Country, A Clean Environment' - Navy replants corals in northern and eastern seas

In support of the vision, 'A Green Country, A Clean Environment' set by the Ministry of Environment, which incidentally comes under the purview of His Excellency the President as the subject minister, navy divers attached to the Northern and Eastern Naval Commands have embarked on replanting corals in the seas off the Coral Cove in Trincomalee and the Charty beach in Jaffna under the guidance of the Wild Life Research and Conservation Trust (WRCT).
17 Oct 2017
Deepavali festival celebrated at Dakshina Naval Preschool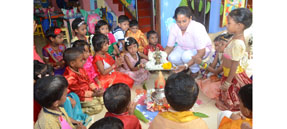 To coincide with the Deepavali festival that falls tomorrow (18 October), a colourful Deepavali celebration was organized by the Dakshina Naval Preschool in Galle. The preschool teachers and children celebrated this festival of lights with great joy, giving prominence to the religious activities.
17 Oct 2017
Fourteen (14) persons taken into naval custody for engaging in illegal activities

08 Clearance Diving Officers pass out on successful completion of their strenuous training