SLNS Sayura and Nandimithra set sail for ports of Chittagong and Rangoon for training exercise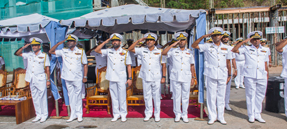 The Offshore Patrol Vessel (OPV) SLNS Sayura and Fast Missile Vessel (FMV) SLNS Nandimithra set sail for the ports of Chittagong in Bangladesh and Rangoon in Myanmar for a training exercise of officer under trainees in the Sri Lanka Navy. Accordingly, the two ships left the Naval Dockyard, Trincomalee on 22nd August 2019.
24 Aug 2019
Navy recovers a parcel suspected to be explosive
His Excellency the President commissions P 625 as SLNS Parakramabahu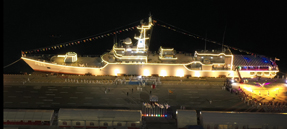 The vessel P 625 acquired by the Sri Lanka Navy (SLN) from the People's Republic of China in a bid to increase the operational capability of the island's sea arm, was commissioned as SLNS 'Parakramabahu' on a ceremonial note by the President and Commander-in-Chief of the Armed Forces, His Excellency Maithripala Sirisena at Colombo harbour today (22nd August 2019).
22 Aug 2019
Navy contributes for the Canal Boat Service commenced to reduce the traffic in Colombo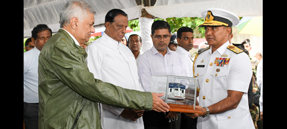 A passenger boat produced by the Sri Lanka Navy to be used for Canal Boat Service initiated by the Ministry of Megapolis and Western Development, was officially handed over to the Hon.Prime Minister Ranil Wickramasinghe by the Commander of the Navy Vice Admiral Piyal De Silva at the Maccalum gate boat yard in front of Lake House in Colombo Fort, today (22nd August 2019).
22 Aug 2019