News
>>
Seva Vanitha News
Foundation stone laid for the new building of Yoghurt Project at SLNS Pandukabhya
14 naval war heroes receive interest free loans for semi – constructed houses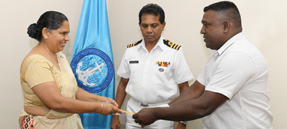 In recognition of the supreme sacrifice made by war heroes and those who left disabled during the humanitarian operation, the Seva Vanitha Unit of the Ministry of Defence provided a total of Rs. 4,200,000 to be distributed among 14 disabled naval war heroes (Rs. 300,000 each), under its project of the provision of interest free loan for semi – constructed houses.
13 Jun 2018
NSVU - organized Poson Bathi Gee programme held at Admiral Somathilake Dissanayake Auditorium

Commander of the Navy declares open SLNS Shilpa welfare shop

Seva Vanitha assists two disabled Navy war heroes

Seva Vanitha celebrate Vesak Day dedicatedly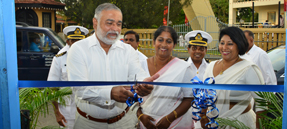 In concurrent with this year's Vesak Day which falls 2562 years after the Passing Away of Lord Buddha, the "Saupan Dansala" organized by the Seva Vanitha Unit under the guidance of its President Mrs. Sandhya Ranasinghe, was opened by Vice Admiral Sirimevan Ranasinghe in the evening of 29th April 2018.
02 May 2018
NSVU 'Avurudu Pola' held on successful note at SLNS Gemunu

Annual sports meet of Naval Preschool 'Gemunu' held in Walisara