Navy's preparedness to conduct Kachchathivu feast 2020 on high note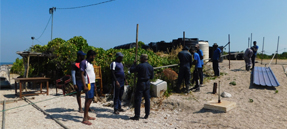 The St. Anthony's sacred Church on Kachchativu Island located close to Indo-Lanka Maritime Boundary Line (IMBL), has long been a pinnacle of respect of both Indian and Sri Lankan Catholic devotees. The annual feast of the church is scheduled to be held in this year too and Sri Lanka Navy is working in full swing to facilitate the event's proceedings.
02 Mar 2020
Wide range of programmes kicked off in Southern Province under Green and Blue Project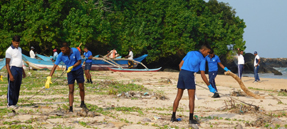 Several Corporate Social Responsibility events operated under the Green and Blue Project - a conceptual notion suggested by Commander of the Navy, Vice Admiral Piyal De Silva, were held in the Southern Province on 29th February 2020. The events were conducted under the directives of Commander Southern Naval Area, Rear Admiral Kassapa Paul.
02 Mar 2020
Admiral Clancy Fernando Memorial Navy Cup Sailing Regatta – 2020 concludes on successful note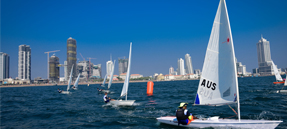 Admiral Clancy Fernando Memorial Navy Cup Sailing Regatta – 2020 organized by Sri Lanka Navy in coordination with the Yachting Association of Sri Lanka which was held on the waterfront of Galle Face Green on 29th February and 1st March came to successful conclusion, today ( 01st March 2020).
01 Mar 2020
Commander of the Navy attends Annual Sea Swimming Competition at Mount Lavenia as Chief Guest
SLN Dockyard proudly celebrates 35th anniversary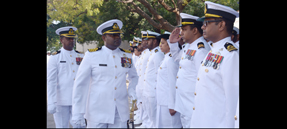 SLN dockyard celebrated its 35th Anniversary (The ship day) giving prominence to the rich naval traditions on 01st March 2020. The Ship day celebration commenced with the Commanding officers divisions in the morning. The Commanding officer of SLN Dockyard Captain Haritha Jayadewa graced the occasion as the Chief Guest and took the salute before inspection of the divisions.
01 Mar 2020
Navy renders assistance to clean roads and sidewalks in Galle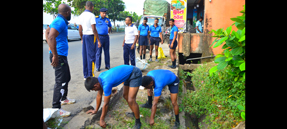 The Navy rendered assistance in terms of providing manpower to clean the main road and sidewalks in Galle town area on 28th February 2020. This programme has been organized as part of the street cleaning week in line with 'Pivithuru Dakunak Lassana Hetak' – a project under 'Rata Hadana Saubhagyaye Dakma' of the President HE Gotabaya Rajapaksa and Green and Blue concept of Sri Lanka Navy.
01 Mar 2020